Galapagos Explorer: Southern Islands (Grand Queen Beatriz)
on Grand Queen Beatriz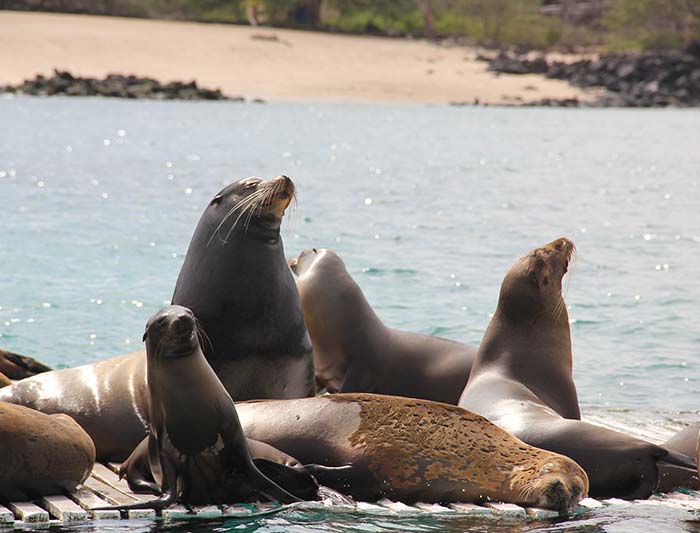 Galapagos Explorer: Southern Islands (Grand Queen Beatriz)
Cruise the Galapagos and discover its unique native wildlife on a 7-day sailing adventure around the southern end of the archipelago. Meet giant tortoises that inhabit Isla San Cristobal, watch blue-footed boobies dance the booby two-step and wander the unfamiliar environment that characterises these far-flung islands. Every day wake up to a different view out your window from the comforts of the M/Y Grand Queen Beatriz. Sail past the volcanic Punta Pitt, swim with sea lions at Bahia Gardner, and hike past prickly pear cacti on Isla Santa Fe. Prepare to head on the adventure of a lifetime and become a Galapagos explorer.
Activities
Isla Santa Cruz - Charles Darwin Research Station (1.5 hours) - Dry Landing
Isla Plaza Sur - Walk (2 hours) - Dry Landing
Isla Santa Fe - Panga ride (45 mins)
Isla Santa Fe - Walk (1.5 hours) - Wet Landing
Isla Espanola - Punta Suarez - Walk (3 hours) - Dry Landing
Isla Espanola - Bahia Gardener - Snorkel (1 hour)
Isla Espanola - Bahia Gardener - Walk (1.5 hours) - Wet Landing
Isla San Cristobal - Punta Pitt - Walk (2 hours) - Wet Landing
Isla San Cristobal - Isla Lobos - Walk (1 hour) - Dry Landing
Isla San Cristobal - Kicker Rock - Snorkelling (45 minutes)
Highlights
Keep an eye out for your next glimpse of Galapagos penguins, sea lions or albatross. In the air, on land and underwater – there's always something to see.
Cruise in small-scale style on the M/Y Grand Queen Beatriz, following in the footsteps of past explorers and passing the best of the southern islands.
Roam Isla Plaza Sur, a small island packed full of wildlife – get close to sea lions, walk trails past one of the Galapagos' largest land iguana populations and visit the rugged southern cliffs that are home to a gathering of old and young male sea lions known as the 'Gentlemen's Club'!
Go exotic bird watching off the coast of Isla Espanola, where you may see the unique waved albatrosses, blue-footed boobies, and masked boobies.
Understand the geography and history of the Galapagos at the San Cristobal Interpretation Center, where you'll learn more about past explorers and expeditions and how your journey shapes up to theirs.
About Grand Queen Beatriz

We get it – travel's a big decision. It's not every day you fly across the world to wander the souks of Marrakech or enjoy a dreamy Angkor sunrise. But for us, it's been our everyday for the past three decades (whew, we're old). Let's just say we know what travellers
really
want: a balance of inclusions and free time, a mix of classic highlights and local secrets you won't find on Google. And of course, an authentic real life experience.
Our leaders are born and raised in-count
...